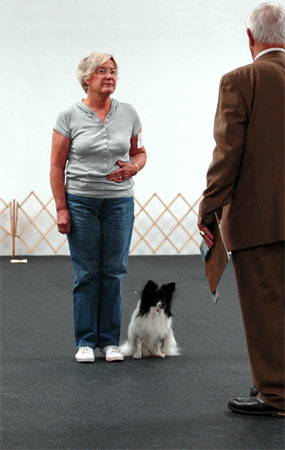 EOC hosts several Show and Go events per year, often the week before our Rally and Obedience trials. Classes run in order from Beginner Novice, to Novice, to Open and then Utility. Cost is $5.00 for 1st run; $3.00 for 2nd run of the same dog. Food, toys, training tools, and mild corrections allowed.
Please email Terrel Costello to request a spot in Rally, Novice, Open or Utlity. She will return an email with your run time. Demand for entries is high so don't delay in reserving your spot. If time permits, drop ins will be accepted and will run after those who have reserved spots.
You can also check our Face Book Page to see when our next Fun Match will be held.
Guidelines governing Show and Go events
· Each handler has 10 minutes per run. When time is up the handler must leave the ring.
· The only person allowed in the ring with the handler is the ring steward, unless the handler requests other persons to assist.
· Each handler is assigned an approximate ring time based on the class entered, when the entry is received, and jump height in Open and Utility classes. No person can move up without permission from the handlers in front of that person and from the ring steward.
· Handlers with multiple dogs must wait, after the first run of each dog, for all other handlers to complete their first run, before doing a second run of the same class.
· Each handler will use the time as he/she desires. It may be used for training or strictly as a trial. Handlers will tell the ring steward if they want a pattern called, and if they are in A or B class. Coaching is allowed if the handler wishes but other handlers should refrain unless told otherwise.
· The guidelines of Good Sportsmanship apply so as to make these events productive, pleasant and fun for all.